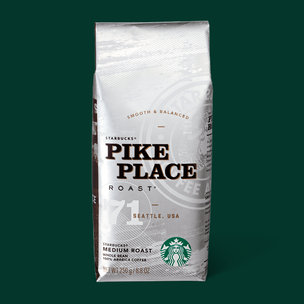 Pike Place Roast
Information is based on standard recipes and does not reflect customization.
In 2008 our master blenders and roasters created this coffee for customers who wanted a freshly brewed cup they could enjoy throughout the day. A smooth blend of Latin American beans with subtly rich flavors of cocoa and toasted nuts, it's perfect anytime.
Coffee Profile
Acidity
Body
Tasting Notes
Smooth and balanced
Complementary flavors
Nuts, chocolate, cinnamon
Additional Information
For detailed nutrition information about our beverages, please contact us.