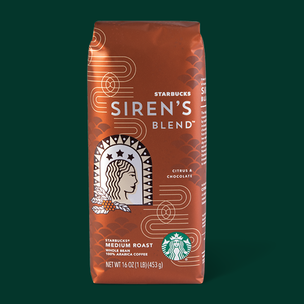 Siren's Blend
Information is based on standard recipes and does not reflect customization.
Women, especially in origin communities are the backbone of the coffee industry. With Starbucks Siren's Blend, we celebrate the women around the globe who bring leadership, strength and purpose to the world of coffee. This washed coffee delivers complexity with its bright flavors, floral aromas and lively acidity, yet the approachable body and mellow roast make it an inviting coffee for customers of all kinds to enjoy.
Coffee Profile
Acidity
Body
Tasting Notes
Citrus and chocolate
Complementary flavors
Candied citrus, milk chocolate
Region
Latin America, Africa
Additional Information
For detailed nutrition information about our beverages, please contact us.