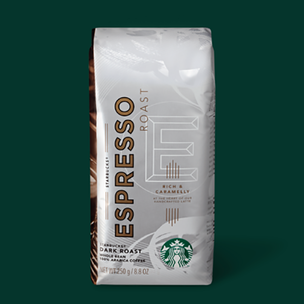 Espresso Roast
Information is based on standard recipes and does not reflect customization.
Every espresso beverage we handcraft for you begins right here. Our master roasters coax the beans along, the heat taking them deep and dark—a recipe for caramelly sweetness so right it's never been changed. The quest began in 1975 with a search for the perfect melding of beans and roast, ending months of intense experimentation later with the coffee you're holding in your hand. A blend of beans from Latin America and Asia / Pacific, roasted the way only we can.
Coffee Profile
Acidity
Body
Processing Method
Washed (Wet)
Complementary flavors
Rich & Caramelly
Region
Caramel, spices, chocolate, nuts
Additional Information
For detailed nutrition information about our beverages, please contact us.